Entertainment
Heartbreaks as rapper Oladips dies at 28, details about his struggles stirs emotions
Heartbreaks as rapper Oladips dies at 28, details about his struggles stirs emotions
Oladips' management announced the death of the rapper shortly after a viral video of him collapsing trended.
The rapper's management disclosed in a statement that he died on Tuesday, November 14.
Celebrities and fans have flooded Oladips' social media pages to express shock about his death.
In a tragic situation in the entertainment industry, the management of rapper Oladipupo Oladimeji, aka Oladips, has announced his death.
It was earlier reported that Oladip caused a fuss online as fans worried about his safety over a viral video that showed the moment he collapsed.
In a statement shown on his Instagram page on Wednesday, November 15, Oladips' management disclosed he died Tuesday, November 14, including that he had been battling within himself for over two years. The management disclosed details that his burial service would be made public soon.
Statement from the post:
"We are saddened to inform the general public that Oladipupo Olabode Oladimeji aka Oladips passed away yesterday November 14. For over two years he has kept battels within himself, his body is now with his family."
See the post below:
View this post on Instagram
Oladips' PA reacts to his death 
PA Abdul Rahsheed, Oladip's PA in a post through his Instagram story shared how broken he was as he disclosed the rapper's death which came after his (PA) sister lost her pregnancy.
See the post below: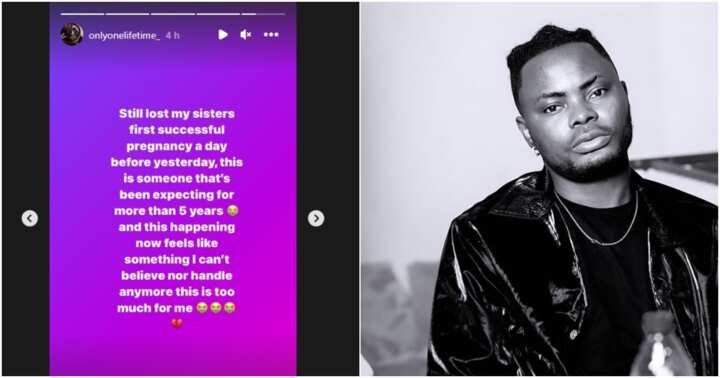 Oladips' death happened two months after singer Mohbad died at the age of 27.
Before his death was announced, Oladips shared a heartbreaking post of his sister losing her pregnancy.
Celebrities and fans mourn Oladip's death
Some of the comments are written below:
omomummy__
"Omo makes we day try show our brothers love ooo people are really going through a lot."
zeronine_twentyseven:
Omo iya aje.
maybreed09:
"What is happening."
lamyy___:
This can't be true pls not this time
wizkidayomedia:
"What's happening I thought this was a joke."
shaypee_onatty:
"This is can't be true…… I'm still in fear but I can't believe yet."
remyleeobi:
"Omo Wetin dey happen na."
all_fresh_yoghurt:
"Which kind wahala be this one again."
topbouy_since_1972:
"Mehnnn people really going through a lot Fr !!! Rest In Peace bro and may God heal everyone."